4 Symptoms Of Sewer Line Damage You Can't Ignore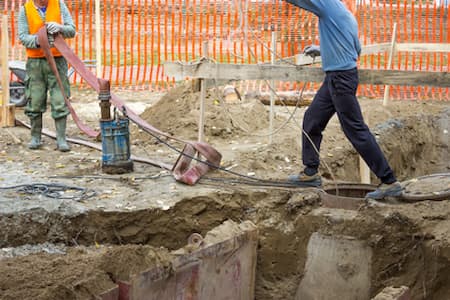 It's something every homeowner dreads, and your plumber isn't too fond of it, either - sewer problems. It's a messy, smelly ordeal but more common than you probably think.
The worst part is that homeowners often miss the big red flags that indicate a problem is developing or already exists. The problem persists and worsens by ignoring these signs, prolonging sewer line repair that should have been dealt with sooner. If you're not diligent about monitoring the condition of your sewer, you could be stuck dealing with replacement instead of just repairs.
Is Your Sewer Line Deteriorating Right Under Your Feet?
You don't have to be a professional plumber to be on the lookout for signs of distress with your plumbing system, including your sewer. Many times, when we arrive on the job, we point out some common signs of a sewer line break and hear from the homeowner, "I noticed that!"
We're here to help you by telling you some of the most common indicators and reminding you not to ignore them.
Odors - It may be faint at first, but it's always distinguishable - the foul scent of sewer gas. Since your system should be airtight, escaping gases mean you have a crack or hole somewhere. The odor may get increasingly worse, but don't wait for it to get that bad to contact a professional.
Green Grass - As icky as sewage is, it also has fertilizing abilities, and a leak can cause extra green and lush grass. If you notice a spot like this, it could be the result of a crack in the line, so have it checked out.
Yard Pooling - Do you notice puddles or larger areas where water accumulates even if it hasn't rained recently? Cracks, breaks, and clogs can cause wastewater to show up in your yard. Don't ignore mystery pools on your lawn.
Drain Clogs - It's easy to think your toilet backing up or the shower being stopped up is an issue with that individual drain. However, if you have multiple drains with issues, the real problem is probably at the source - the sewer. That's why it's crucial not to use DIY drain cleaners and just call in a pro to get to the root of the problem.
Call Ford Plumbing in Lake Zurich if you need the expertise of a local plumber for your sewer, drains, water heater, or plumbing in general.
Need a Plumbing Expert?
Contact Ford Plumbing!
Our Trusted Brands
When you need to contact a Lake Zurich plumber, be sure they're trained and authorized to work on your make, model, and brand - or just call us because we do it all! Check out this impressive list of most of the brands we offer professional plumbing services for.
Moen

Grohe

Chicago

Delta

Gerber

Bradford White

A. O. Smith

State Industries

Kohler

Americast

Bootz

National

Mustee

Marblecast

Swanstone

Hand Tiled

Mansfield

Insinkerator

Lang

Grundfos

Bell & Gossett

Brasscraft

Watts

Red White

Barnes

Hydromatic

Metropolitan

Aquanot
Our Recent Projects
Coming Soon!

Contact Ford Plumbing
Schedule Your Appointment With An Expert Plumber In Lake Zurich Today!