Ford Plumbing: Lake Zurich's Gas Line Repair & Leak Detection Specialists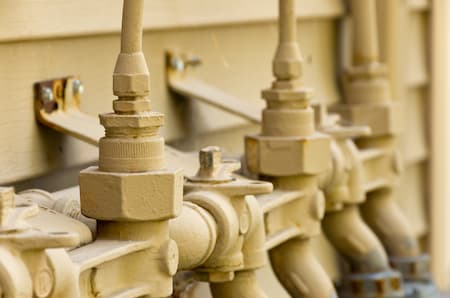 When Lake Zurich is in need of gas line repair and leak detection, you need to know you are getting the best service possible. Gas lines are a tricky area to work with, one that should only be handled by industry experts. This is why Lake Zurich clients call on Ford Plumbing to get the job done. We never want you to take a risk when it comes to something as potentially hazardous as your gas lines. If an untrained individual tries to work on gas lines, it can lead to illness, injury, or even fatality. While gas is a great and useful natural resource, it must also be handled with great care by a plumber who knows what they're doing.
Because of this, you never want to hire an underqualified company to take care of the job for you. When choosing a plumber to take care of your gas line repair and leak detection services, make it a point to ensure they have the credentials needed to tackle this kind of work. In other words, don't take any chances-- call on Ford Plumbing. We're the plumbing experts in Lake Zurich, offering many plumbing services to the area like bathroom drain cleaning, ejector pumps, sewer line repairs, and many more.
With the growing popularity of natural gas, the demand continues to grow as well. Gas is one of the most common and affordable forms of energy for residential homes, however, it does come with possible safety hazards. It's important to be aware of these potential hazards and to work with an expert who can provide you with the best possible gas line repair and leak detection services.
Check Often For Signs Of Gas Leaks
Contrary to popular belief, gas line leaks are a rare occurrence, but they aren't impossible! A leak can happen on the inside or the outside of your home. When it comes to interior leaks, the build-up of gas can lead to illness or even an explosion. Outside the home, gas leaks are still pretty easy to detect-- the most common sign is a rotten egg smell around your property. It's important to act immediately if you think your home has an interior or exterior leak:
Shut off the gas valve in your home

Get as far away from the house as possible

If the line outside your home is damaged, call the local utility company
Never attempt to locate a leak or make repairs on your own - leave it to the professionals. When you find yourself in need of gas line repair and leak detection services, you obviously need to call on the pros here at Ford Plumbing. We know what it takes to deliver the best in quality service that will keep you and your family safe. Give us a call today to get started!
Natural Gas
Of all energy resources available, natural gas is by far the most simple and easy to use. It is always readily available, regardless of what you are using it for. Natural gas lines can withstand just about any type of disaster, weather-related or otherwise. The system is durable, long-lasting, and dependable no matter when you need it. Natural gas is also one of the most effective money-saving methods to get electricity to your home. Since it is such a plentiful energy source, it is very simple for many homeowners to make the transition to gas.
Natural gas can be used for any number of practical purposes around your home. For instance, it can be used to heat water, provide electricity to any appliance, and power various tools. Natural gas lines will leak from time to time if not regularly inspected and given a tune-up. Gas leaks can be highly dangerous for obvious reasons. Your Ford Plumbing team can help you schedule regular visits to inspect and repair your gas lines when needed. Contact us today to learn more about our gas line repair and leak detection services and how they can benefit your home in Lake Zurich.
Need a Plumbing Expert?
Contact Ford Plumbing!
Our Trusted Brands
When you need to contact a Lake Zurich plumber, be sure they're trained and authorized to work on your make, model, and brand - or just call us because we do it all! Check out this impressive list of most of the brands we offer professional plumbing services for.
Moen

Grohe

Chicago

Delta

Gerber

Bradford White

A. O. Smith

State Industries

Kohler

Americast

Bootz

National

Mustee

Marblecast

Swanstone

Hand Tiled

Mansfield

Insinkerator

Lang

Grundfos

Bell & Gossett

Brasscraft

Watts

Red White

Barnes

Hydromatic

Metropolitan

Aquanot
Our Recent Projects
Coming Soon!

Contact Ford Plumbing
Schedule Your Appointment With An Expert Plumber In Lake Zurich Today!