Peace Of Mind With Lake Zurich Battery Backup Pumps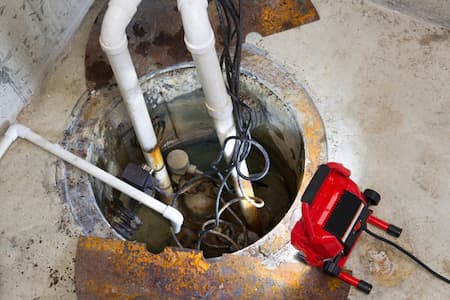 Are you ready to deal with a household left in the dark and without a functional sump pump if the power goes out? Savvy Lake Zurich homeowners know the value of battery backup pumps, and the importance of hiring Ford Plumbing for superior work quality.
Sump pumps are meant to work overtime when too much water is present. However, in the event of flooding, excess water often causes a power failure. To make sure your pump works when you need it the most, you need a battery backup pump.
For over 36 years now, we've been providing exceptional service for our local customers. This includes making sure you understand your plumbing system and the options you have. It's vital to add a sump pump, but just as important to include backup power to prevent a bigger problem.
Learning The Basics Of Battery Backup
Any Lake Zurich plumber you work with should stress the value and importance of a battery backup pump. Battery-powered backup sump pumps are used as a supplemental power source in the event that your primary pump succumbs to an outage, overuse, or mechanical failure. The purpose of this backup system is to provide several hours of protection from water damage.
Do you know what homeowners love the most about having a backup plan for power for their sump pump? Peace of mind. If you're away from your home when a problem arises, you can feel confident you won't be returning to an expected emergency and damaging mess.
Protecting Your Home With Backup Pump Power
When a weather event knocks out your power, it's usually the exact type of activity you need a sump pump for. It's a challenge to keep your basement from taking on too much moisture even with the best conditions, but when the weather turns wet, it can get extra messy.
Your pump is in place to continue to keep your basement or the lower level of your home dry. Unfortunately, lightning or flooding can knock out the power, which causes your sump pump to fail. Have a backup plan in the form of backup power and stay free from worry and water. Call Ford Plumbing today to schedule service in Lake Zurich for a battery backup pump.
Need a Plumbing Expert?
Contact Ford Plumbing!
Our Trusted Brands
When you need to contact a Lake Zurich plumber, be sure they're trained and authorized to work on your make, model, and brand - or just call us because we do it all! Check out this impressive list of most of the brands we offer professional plumbing services for.
Moen

Grohe

Chicago

Delta

Gerber

Bradford White

A. O. Smith

State Industries

Kohler

Americast

Bootz

National

Mustee

Marblecast

Swanstone

Hand Tiled

Mansfield

Insinkerator

Lang

Grundfos

Bell & Gossett

Brasscraft

Watts

Red White

Barnes

Hydromatic

Metropolitan

Aquanot
Our Recent Projects
Coming Soon!

Contact Ford Plumbing
Schedule Your Appointment With An Expert Plumber In Lake Zurich Today!