Quality Backflow Testing & Certification For Your Lake Zurich Home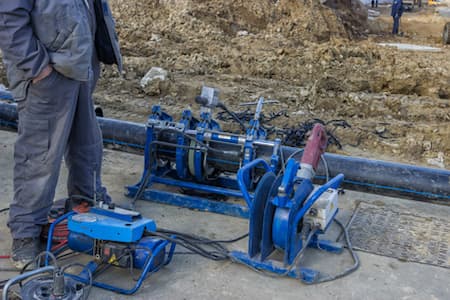 Our customers in Lake Zurich know they can rely on us for expert care for backflow testing. At Ford Plumbing, we take what we do seriously for all of our plumbing work, especially jobs involving water quality. As a preferred local plumber, we genuinely care about our customers and fellow community members' health, safety, and well-being.
Backflow is something that happens when water flows in the opposite direction in your system. The result is that contaminated water flows back into your drinking water. Testing for backflow is vital to ensure the safety of your family's drinking water.
Contact us for more information or to schedule your backflow testing and certification. We're committed to ensuring your water supply is safe or rectifying the situation to reverse the problem.
Backflow Certification
When you contract a plumber in Lake Zurich for backflow testing, they have to be certified, licensed, and insured. The goal is to make sure potable water is protected from contamination or pollution due to backflow. A backflow prevention device also has to be tested and certified.
Although it seems like extreme measures, the safety and health of you and your family are on the line. That's why it's important to be cautious of the plumbing company you hire to do this or any of your plumbing work. A questionable plumbing contractor can actually cause problems with backflow to occur; our job is to prevent or resolve the issue.
Working To Keep Your Household Safe
Some of the most common causes of problems with backflow are sprinkler systems and swimming pools. However, we'll thoroughly check for any causes of existing or potential future issues with backflow, including pipe repairs.
At Ford Plumbing, we're here to provide backflow testing and certification for our residential clients in Lake Zurich, so call us today. We offer quality professional plumbing services at prices you can afford. There's no reason to take chances with the well-being of anyone in your family, and we want to assist you in keeping your household water supply as clean as possible.
Need a Plumbing Expert?
Contact Ford Plumbing!
Our Trusted Brands
When you need to contact a Lake Zurich plumber, be sure they're trained and authorized to work on your make, model, and brand - or just call us because we do it all! Check out this impressive list of most of the brands we offer professional plumbing services for.
Moen

Grohe

Chicago

Delta

Gerber

Bradford White

A. O. Smith

State Industries

Kohler

Americast

Bootz

National

Mustee

Marblecast

Swanstone

Hand Tiled

Mansfield

Insinkerator

Lang

Grundfos

Bell & Gossett

Brasscraft

Watts

Red White

Barnes

Hydromatic

Metropolitan

Aquanot
Our Recent Projects
Coming Soon!

Contact Ford Plumbing
Schedule Your Appointment With An Expert Plumber In Lake Zurich Today!